Continue from where we left off with the Guinness Foreign Extra Stout pairing with local 7 main dishes, here are the verdict as a taster, but each person tastebud are different, it may works very well and perfect for you. Do try it when you're out on local restaurant with a bottle of Foreign Extra stout, you may find a whole different experience with this black brew.
1. Fresh Oysters
Guinness and Oysters are celebrated around the world beginning in Galway Ireland in the mid 50's. The Galway Oyster Festival and the Guinness Oyster Festival in Cincinnati amongst many, see thousands of people come together to enjoy their oyster with the perfect beverage accompaniment – Guinness.
According to the food pairing expert, the best way to enjoy the full flavour of oysters is to eat them raw served on the deep shell to hold their succulent juices. Fresh lemon juice or a drop of Tabasco sauce is also often used as accompaniments. We would never have thought that taste can improve on plain oysters and Guinness, but after try it in these variations and we are amazed at the different dimensions it gives. But somehow I felt the oysters taste somewhat overpowered the rest of the dishes, but it was quite an amazing taste to said.
2. Steamed cod fish in Soy Sauce
Steamed fish may sound plain, but this dish is packed with flavour and texture.
Tasty, tender and smooth, this local favourite fish cuisine is subtly flavored with soy sauce making it a delightful companion while enhancing the sweetness of Foreign Extra Stout. I say quite a good pairing.
3. Guinness Infused Fresh Water Prawn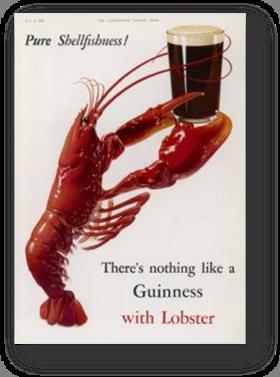 GUINNESS® has been a part of cooking for generations and when we weren't deciding what's best cooked in it, we were deciding what's best eaten with it. Above is a classic Guinness advertising which depicts a lobster trying to get its hands on a pint of Guinness! The rich, full-bodied flavor of Guinness makes this stout perfect for cooking and works in a variety of dishes. GUINNESS® intensifies flavour, adds depth, enhance texture and when it boils down to it, just tastes great.
My verdict, this Guinness infused fresh water prawn is awesome.. a good combination with Foreign Extra Stout.
4. Famous Crispy Pork Knuckle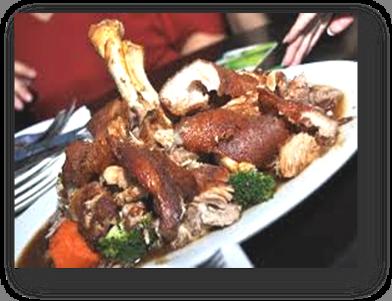 This international favourite is a perfect combination for the black stuff! Deep fried to crispy perfection, this dish leaves its skin delightfully light and crunchy and a layer of tender succulent meat beneath, packed with bursts of flavours.
The crispy skin pairing off with the Foreign Extra sweetness is just nice, makes me wonder what about Peking duck, this formula could work too!
5. Stir-fried Bitter gourd with Bean Sprout
When its the time this Bitter Gourd and Bean Sprout dished out on the table, I start wondering how a bitter food works with Foreign Extra Stout.
Served on a bed of stir fried bean sprouts, some said this bitter gourd dish pleasantly complements the bold black brew, giving it a surprisingly, sweet tang on the palate. If you like bitter gourd, maybe this would be a good complement, but the notion of eating bitter gourd already a turn off for me, I can only admire those whom can appreciate this pairing.
6. Chili Crab
Few things go better with seafood than the smooth, hearty taste of Guinness. Crabs and Guinness have been known to be a perfect combination for decades. Classic vintage Guinness advertising by John Gilroy dated back in 1935, shows a crab trying to wrap its claws around a Guinness which says "have one with me", well known artistic depiction of this globally renowned fact.
Chili crab is a popular crab dish in Malaysia. Its semi thick, sweet and savoury tomato and chili based sauce really lights-up the smelling senses and tastes great. A profusion of smells emanate from the key ingredients – ginger, garlic, rice vinegar, eggs and chili and tomato sauce. I find this pairing is well chosen, as the sweet savoury sauce really work out the Foreign Extra Stout.
7. Hokkien Fried Mee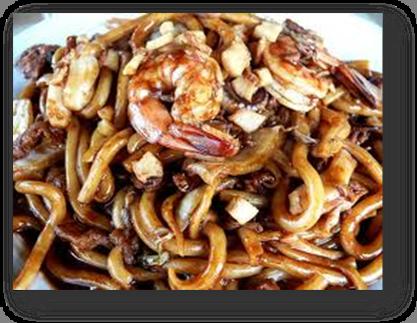 Noodles are a popular local staple amongst Malaysians, especially this Hokkien Fried Mee.
This thick yellow noodle dish fried in black soy sauce with a generous serving of crunchy pork bits is bursting with flavour and is a quite a good accompaniment with Foreign Extra Stout. No doubt about it, we can see many uncles having their favorite FES with a plate of Hokkien Fried Noodle.
Share on Facebook