October 11, 2020 – 9:32 am
Guinness Anchor Berhad (GAB), the leading beer and stout company in Malaysia kicked off its month long Oktoberfest celebration today in high gear at the newly opened SOULed OUT Ampang, Menara HSC, Jalan Ampang. This is the fourth year running GAB is organising the annual Oktoberfest festival in Malaysia with a bigger selection of award-winning and iconic beers including the official Munich Oktoberfest beer, Paulaner Oktoberfest Bier, fun-filled parties, special promotions and events for more beer lovers throughout this October.
The Oktoberfest celebration was officially launched with the tapping of GAB beers by Charles Ireland, Managing Director of GAB, Yap Swee Leng, Marketing Director of GAB, Bernard Eloy, Supply Chain Director of GAB, Shirley Low, Head of Trade Marketing of GAB, as well as Fred Choo, Commander-in-Chief and Michele Kwok, First Lady of SOULed OUT Ampang, paying homage to the traditional Munich Oktoberfest custom with a loud cheer of "Eins, zwei, drei, g'suffa; Zicke-Zacke-Zicke-Zacke Hoy, Hoy, Hoy!"
Alongside its award-winning portfolio of Tiger, Guinness, Heineken, Anchor, Kilkenny, Strongbow and Paulaner, this year, GAB also introduces three special beers that will be made available at selected outlets for consumers to enjoy throughout the month.
All hailing from Germany with unique history, exceptional pedigree and great taste, GAB presents the Hopf Ice Wheat Beer, the trendy, cutting edge beer that uses iced conditioned wheat in the brewing; 111 Zwickl Beer, the beer made for the taste of the Bavarian professional master brewers and the Paulaner Oktoberfest Bier, the official beer at the Munich Oktoberfest.
Ms Yap Swee Leng, Marketing Director of GAB said "With our diverse portfolio of award winning beers, we are in the best position to offer our consumers a bigger beer Oktoberfest Celebration this year."
"GAB strongly believes in providing value added drinking experiences to our consumers through multiple engagement platforms such as Oktoberfest, St. Patrick's Day and Arthur's Day and we are proud that these three international events have now become permanent fixtures in Malaysia's event calendar".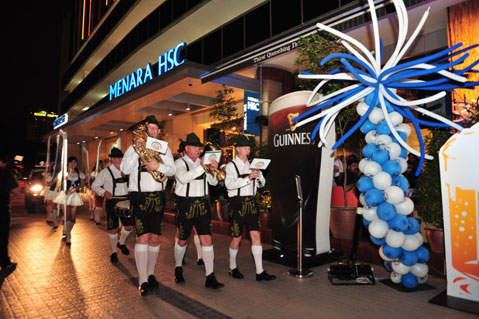 She added that, in GAB's efforts to continue with these success as well as to reach out to more beer lovers this year, GAB have planned an extensive campaign offering consumers wider beer selections, bigger parties and promotions nationwide.
"We are proud to offer one of the most iconic beers for Oktoberfest, the Paulaner Oktoberfest Bier which many beer enthusiasts across the world have claimed to have successfully "bottled the beer-tent atmosphere" of the Munich Oktoberfest. Such praises for the beer means that Malaysian consumers should not miss out on this great opportunity to experience the world's finest Oktoberfest beer at the selected outlets offering it during our GAB Oktoberfest celebrations," she added.
The GAB Oktoberfest Celebration launch saw a turnout of more than 200 people including media members and guests at SOULed OUT Ampang, the latest addition to the dining scene of the affluent Ampang neighbourhood. Designed by international designer Ed Poole, the new Ampang premise that marks SOULed OUT 15th Anniversary promises more than a warm hug with its pleasant twist in ambient experience whilst retaining the charm, warmth, and fun of the original Sri Hartamas outlet.
Guests were briefed on the special Oktoberfest beers offered by GAB throughout October and were treated to a day of German-inspired cuisines and traditional Oktoberfest games such as the Chicken Dance, Pretzel Challenge and Beer Stein Holding Competition, feted by the entertaining Oom-pah band.
Consumers across Malaysia can experience the month long Oktoberfest celebration through:
Outlet events
Friends and families can get together at the selected outlet events and enjoy the all day happy hour promotion on GAB award winning beers – Tiger, Guinness, Heineken, Anchor, Kilkenny, Strongbow and Paulaner as well as GAB
Oktoberfest special beers – Paulaner Oktoberfest Bier, Hopf Ice Wheat Beer and 111 Zwickl Beer. Aside from that, consumers can expect the full Oktoberfest celebration experience with the showcase of German-styled food, Oktoberfest games and dance, the traditional Oom-pah band and the appearances of Bavarian beer hostesses.
In addition to these selected outlet events, other outlets across the nation will run their own Oktoberfest celebration events, making this year's celebrations more accessible to all beer lovers in Malaysia.
Other promotions
Bars and Clubs: With every purchase of a 1L stein of Tiger beer, consumers are entitled to take home a limited edition GAB Oktoberfest 1L stein mugs.
Supermarkets: Consumers who purchase their beers from retail outlets such as Cold Storage, Mercato, Village Grocer and Jaya Grocer will enjoy special promotional discounts.
Coffee shops and Chinese restaurants: For every purchase of any two big bottle of Tiger, Guinness or Anchor, consumes will get a discount of RM2. Consumers can also enjoy the flexibility to pair any of the two bottles between the three provided selections, to suit each individual's preference.
Online contest
Win exclusive invitations to celebrate Oktoberfest at GAB's Brewery on facebook.com/OktoberfestMY – first 10 correct answers to questions posed at 11am, from 12 until 16 October 2020 will win these money-can't-buy invite and experience Oktoberfest at Malaysia's leading brewery.
Share on Facebook