August 30, 2021 – 8:37 am
GUINNESS® ARTHUR'S DAY, a celebration of the remarkable legacy of Arthur Guinness, returns to Malaysian shores yet again this 2012! Themed "A celebration Made of More", which is inspired by Arthur Guinness' bold legacies, GUINNESS® fans and music lovers this year will have 3 unique music events that will take place simultaneously, citywide on 28th September 2012.
"Every year we refresh the approach to the Arthur's Day celebrations to keep things exciting for our consumers. This year is no different as we give music lovers an evening of live music spanning over 5 hours in 3 separate locations around Kuala Lumpur." said Yap Swee Leng, Marketing Director of Guinness Anchor Berhad at the launch of the celebrations at Studio Lounge, Tropicana City Mall today.
"Arthur's Day celebrates the remarkable legacies of the founder of GUINNESS®, Arthur Guinness, through music. This year, we pay tribute to his boldness; a man who dared to make bold choices in his time, a man who was 'more' than just ordinary," she said.
"Besides that, Arthur's Day is also a chance for people who share the same attributes as Arthur, people who are 'made of more', who never settle for the ordinary, to come together to raise a toast to this remarkable man. With that in mind, the headline acts this year also epitomizes Arthur's bold character. We have selected some of the biggest global Asian music icons in the region to be part of the Arthur's Day music events this year." Swee Leng continued.
To name a few, globally renowned Asian music superstar Justin Lo from Hong Kong, Nidji from Indonesia, our very own Malaysian Jazz & R&B superstar, Ning Baizura will take centre stage at this year's celebrations.
A special addition to the celebration this year, in tribute to Arthur's philanthropic legacies, is the launch of the Arthur Guinness Fund™ in Malaysia in partnership with British Council, Malaysia. The Arthur Guinness Fund™ is a global initiative that was set up to further the philanthropic legacy of Arthur Guinness and support social entrepreneurs around the world.
Arthur Guinness and his family were responsible for some of the most profound acts of corporate philanthropy in Irish history and created a legacy of goodness that continues in the company today. A renowned social philanthropist, Arthur Guinness ensured his business continually gave back to his employees, the local community, and Dublin. Arthur was the first to provide employees with health benefits such as insurance, something unheard of at that time.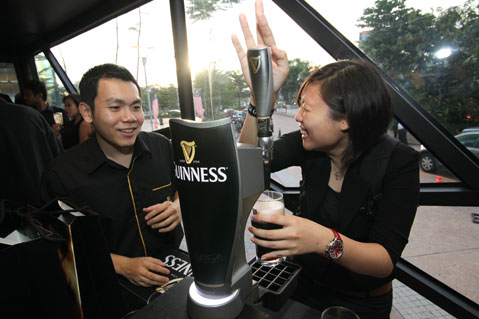 "As an enlightened entrepreneur, Arthur Guinness had the vision to improve the communities and lives of the citizens where his products were sold around the world. With the Malaysian Arthur Guinness Fund™ this year, we're proud to continue his good work." said Swee Leng.
More than RM 200,000 will be channeled to the program which aims to support local Malaysian social entrepreneurs with the passion for the Malaysian community to deliver measurable, transformational change in our local communities.
The Arthur's Day celebration this year will be a month long celebration with promotions on your favourite black brew in more than 11,000 outlets nationwide starting today, 23rd August 2012 till the 30th of September 2012. The celebrations will also see the return of the GUINNESS® arTHURSDAY Music Parties, which takes place every Thursday in selected outlets across the Klang Valley. As always, for all our GUINNESS® fans, there will be special promotions on their favourite black brew. Continuing from the success of last year's 'arThursday Talent Search', and in an effort to give aspiring Malaysian artists a global platform to promote their music, 6 up and coming local music talents will be battling it out for the once in a lifetime opportunity to be the opening act for 'Creed' at the Arthur's Day concert in Indonesia this year!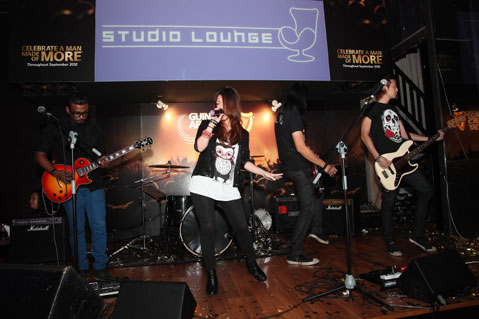 "Thank you GUINNESS® for giving us this chance to be part of the global Arthur's Day celebration. We are looking forward to showing just how much like Arthur we really are and we will be putting our best foot forward to win the place to open for Creed in Arthur's Day in Indonesia," enthused Esty Richards, the female lead from the band Once Upon a Time There Was a Sausage Named Bob.
As with previous years, the winner of the 'arThursday Talent Search' will be the band that gets the most votes from its fans. Fans can vote for their favourite bands by voting on-ground at arThursday Music Parties, or by visiting the GUINNESS® Youtube channel and clicking 'Like'. The band with the most votes and 'Likes' will go on to be the winner and open for Creed in Indonesia!
Be sure to show your support for our local bands as they battle it out at our arThursday Music Parties at the following venues:-
30th August 2012 – Bulldog Pub, Sri Hartamas
6th September 2012 – 32 Bistro, Puchong
13th September 2012- Malones, Sooka Sentral
16th September 2012 – Sid's Pub, TTDI
21st September 2012 – Dirty Nelly's, KL Live
27th September 2012 – Backyard Pub, Sri Hartamas
28th September 2012 – Beer Factory, Sunway Giza
28th September 2012 – SOULed OUT, Sri Hartamas
28th September 2012 – Laundry, The Curve
So be sure to make your way down to an Arthur's Day™ celebration near you to raise a pint of GUINNESS® together with us and enjoy special discounts on GUINNESS® throughout the month!
Share on Facebook