December 31, 2020 – 1:21 pm
Just came back from Penang, was wondering what to do as I'm still on holiday all the way to 5th of Jan. May be I can do some cleaning for all my liquor bottles in mum's room, as she's still in Penang, lucky woman… It's has been quite a while since the last time I clean them, most probably covered in inches thick of dust by now.
This is where I kept most of my liquor bottles, vodkas, gins, rums, liqueurs, vermouths, champagnes and 'a hand full' of whisky. Wines on another side, darker over there. Some books about beers, whisky, basically all the drinkable spirits under the sun, hifi magazines, work related documents and stuff. The place used to be where I position my hifi too… God knows how much I miss them. I only leave the windows open for a few minutes on cleaning days, sunlight and alcohol, they don't walk along.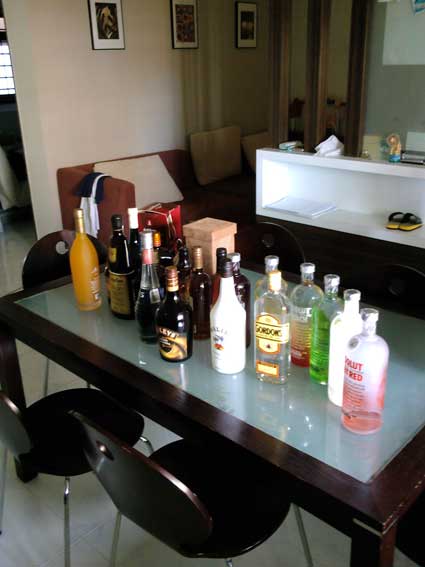 I place them on the dining table and start using Magic Clean wiper sheets to clean the dust away. Liqueurs, gins, vodkas and rums on the table, still a long way to go as these are only a fraction of what I have. Quite dusty…
Some vermouth, acquired taste if you ask me, but once you know how to drink them, you'll get to enjoy. Italian will drink them before meal, to improve their appetite. Not too dusty, lucky me…
My favorite drinks, M&C champagnes. The middle 3 are vintage, extreme ends are emptied Brut Imperial, right is magnum sized, 1.5L I will not expand the collection further at the moment until I bought a wine cellar. Champagnes are delicate and fragile, no different from your first love or a 18 years old girl, handle with tender loving care always… My precious~~~
For those who interested to know more, there is a documentary about it on 31st Dec, 2300 – 2400, Drink of Kings – A History of Champagne on Asian Food Channel. What drinks to go along the TV program? hmmm… I wonder…
Super dusty for the magnum bottle, should I throw it away?
Single malts and a bottle of Johnny green (pure malt). Most of them are kept inside boxes, just some minor cleaning will do.
Blended, I'm not fancy about CR 12 to be frank, but my dad loves it so I will always have at least a bottle standby. The rest are quite good, complex flavour with hefty price tag. By the way, I'm not huge fan of whisky, really, I swear…
My reds and whites, 1 icewine and 1 port. I'm not into wines but it's good to have a glass or 2 once in a blue moon, most of my collection are Aussie's with little French and Italian. Don't really like South Africa's, however Chilean one are not bad to me. I'm particularly fond of Reisling and port, have to resist the temptation to open them now…
I'll have headache everytime cleaning them as they are somehow 'dust-friendly', no exception this time.
Just when you think I'm done with
These are all the opened bottles, some in the fridge whilst some on the kitchen shelf. Amarula cream, Tia Maria, Midori Melon, Grand Marnier, port (told you I love'em), 21 YO malt, sherry and a tequila. Cocktails anyone?
These are only what I have in Singapore, not including Penang's, mostly malts over there, call me a freak if you want, I enjoy doing this…
You must be asking where the hell is all my beers? Well, you won't want to see, trust me, not a pretty sight…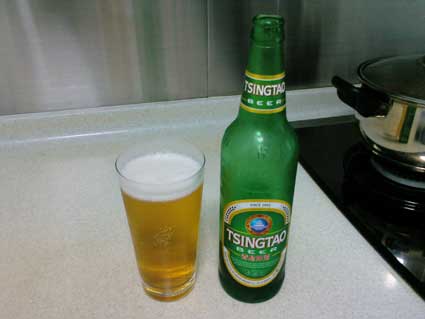 Pardon for the poor picture quality, all using handphone cam.
I had a glass of Graham's late bottle vintage port 2000 and a bottle of Tsing Tao beer later in the night, Happy New Year, stay healthy, respect your parents, love your woman, honor your country and remember, too much of drinks is always better than not enough!
Share on Facebook